Return to List of News Stories
Everwarm's generous gesture to Almond tenants
Posted on 24th Dec 2018 at 12:31 ( Last updated on 24th Dec 2018 at 12:52 )
Almond Housing Association will be distributing an early festive gift from staff at Everwarm.
The energy services company, one of the contractors used by Almond HA, raised £200 from a Christmas jumper day, and collected several bags of food.
Neil Webster, Everwarm's Business Development Manager, made a presentation to Almond's Community Engagement Officer Barbara Boertien, and Capital Projects Surveyor Stewart Fisher.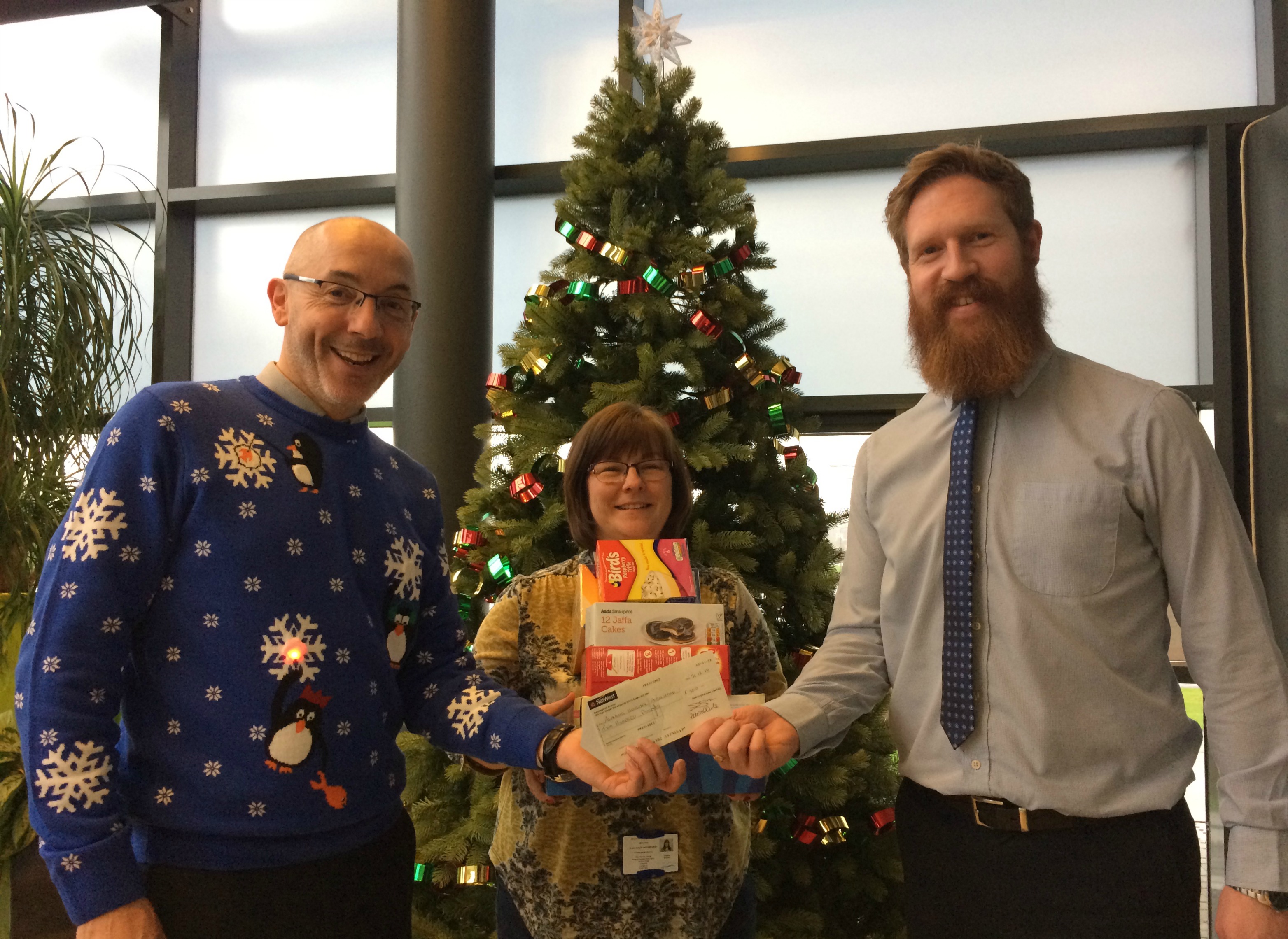 Almond HA, a registered social landlord in West Lothian, provides all new tenants who need it with a pack of essential household items - including bedding, towels, kitchen utensils and crockery. The £200 cheque will go towards obtaining these items.
The food will be put into the Riverside Community Fridge project, which provides groceries to locals in and around Craigshill, Livingston - which is in the top 5% most deprived areas in Scotland – according to the Scottish Government-commissioned report, The Scottish Index of Multiple Deprivation.
Barbara said: "We're overwhelmed to receive this very generous gift from Everwarm, which will make an enormous difference to our tenants and the wider community in West Lothian.
"We've been working hard to help families in crisis over the festive season, to make sure nobody goes without in the holidays."
Everwarm, based in Bathgate, held a fundraising day where staff paid a £2 donation to wear their Christmas jumper to work – or they were fined £4 if they didn't. They also brought in food items to go to families who are struggling over the festive season.
Almond's housing officers are making door-to-door deliveries directly to dozens of tenants, providing them with essential groceries to help keep them going over Christmas and the New Year.
According to a recent survey by the independent Joseph Rowntree Foundation, one in four Scottish children live below the breadline – making it even more important to support families at this time of year.