Housing Support Manager Tracey Longworth spoke at the Rock Trust conference this week – about Almond's partnership with the charity to offer permanent homes to young people leaving care.
Here, she explains why and how the Housing First for Youth project, was put into action.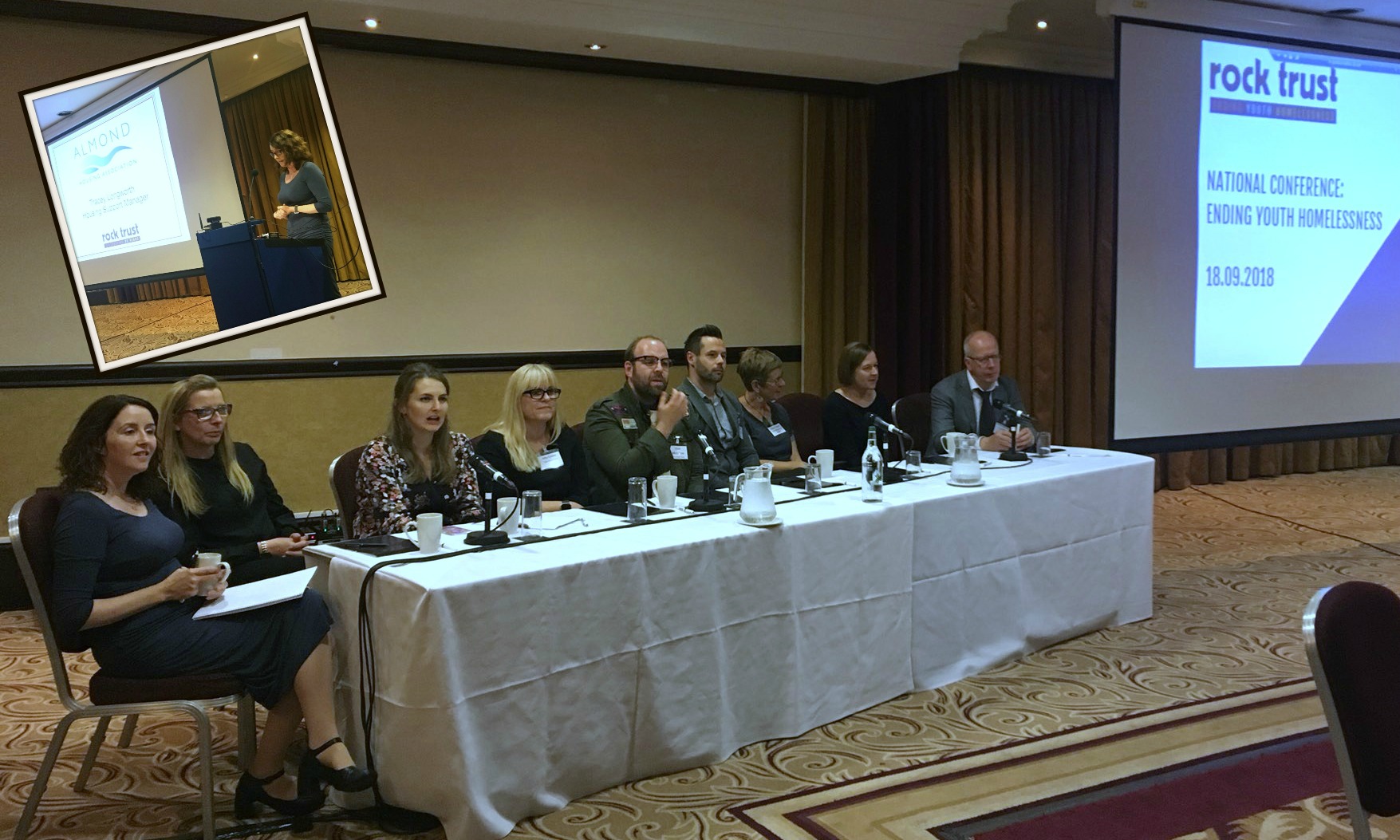 I am going to start my presentation with a question:
Why would a Housing Association commit to, and invest its own resources in, a Housing First project for young people with indicators of complex needs leaving care?
The staircase model works for housing providers. People with complex needs have to navigate it and demonstrate that they are "tenancy ready" prior to obtaining a permanent tenancy. This model minimises our risk level.
These requirements have been put in place to protect our communities from the poor behaviour of a very small minority. In my housing career I have seen residential blocks empty due to the anti-social behaviour of one tenant, and neighbourhoods become difficult to let
Additionally, care leavers are not the responsibility of Housing Associations. This is the remit of local authorities.
So what made the difference?
The proven effectiveness of the Rock Trust's well-established tenancy support service Bedrock and - without wishing to cause embarrassment - their dynamic and engaging local manager Alistair MacDermid
A realisation that for a small group of care leavers there was no effective service in our area
A recognition that with a trusted partner we could pilot and test the Housing First concept for this group
The project was not straightforward for Almond. We had never taken such a risk before. The idea of providing a Scottish Secure Tenancy to a young care leaver with indicators of complex need, with no requirement to engage with support, was met with a degree of concern.
However a strong case was put forward and the team decided it was time to try something different. The project was given the go ahead.
For us as housing providers the key features of this project are:
The provision of high quality furnishings chosen by the tenant. This gives an immediate sense of worth, determination and ownership from the beginning.
A dedicated Housing Officer, who is invested and committed to the project. This ensures a consistent management approach from Almond. The decision about the appropriate person for this role is imperative - and we have got this spot on. Layla has a difficult role to play. It is important that our Housing First service users adhere to their tenancy agreement, but she enforces this in a way that retains their faith and trust - which is so quickly stripped from people with complex needs. Difficult matters have to be addressed, but Layla instils a sense that anything can be fixed and our young people believe her. She never lets them down.
A strong and honest partnership. We trust Rock Trust to support our Housing first tenants. We jointly recruited the support team and we have been delighted with their proactive, "whatever it takes" approach. I believe that this is underpinned with the open and honest working relationship that we have at every level between our two organisations.
Financial Investment. Almond did not wait for funding for Housing First. Along with Rock Trust and FEANSTA, we put in place the finances to make this project happen. We are delighted that this has been enhanced further by Nationwide. Housing First is not cheap and more importantly it can't be. Good quality support comes at a cost - but it is a price worth paying
Adherence to the principles – it is not Housing First without them
We have had our difficulties - anti-social behaviour, damage to property and rent arrears have all featured in the journey so far, and will no doubt do so in the future. Housing First is not a panacea that makes these realities disappear.
In going back to my original question:
Why would a Housing Association commit to, and invest its own resources in, a Housing First project for young people with indicators of complex needs leaving care?
Because we should. We all have a responsibility towards young people leaving care. The attitude of "this is not our problem" is no longer an option for us. At Almond we are sincerely committed to Housing First for Youth.
We have every faith in our Rock Trust partners.
We know that Housing First works.
We know that together we can make profound differences.
We need other housing providers to follow our lead. Once they do, we can make real and lasting change in the lives of our most vulnerable young people.