Return to List of News Stories
Almond Enterprises Ltd. donates £500 to three local charities
Posted on 19th Mar 2018 at 10:13 ( Last updated on 7th Jun 2018 at 15:00 )
Almond Enterprises Ltd. carries out a range of high quality, good value cleaning and environmental services across West Lothian. The company aims to be a profitable and sustainable business, but differs from most companies by donating surplus profits to local community groups, charities and voluntary organisations.
Last week Almond Enterprises' Manager Vicky Wilson was delighted to hand over three cheques of £500 to three local charities: West Lothian Rythmic Gymnastic Club, The Open Door Accommodation Project and West Lothian Drug and Alcohol Service.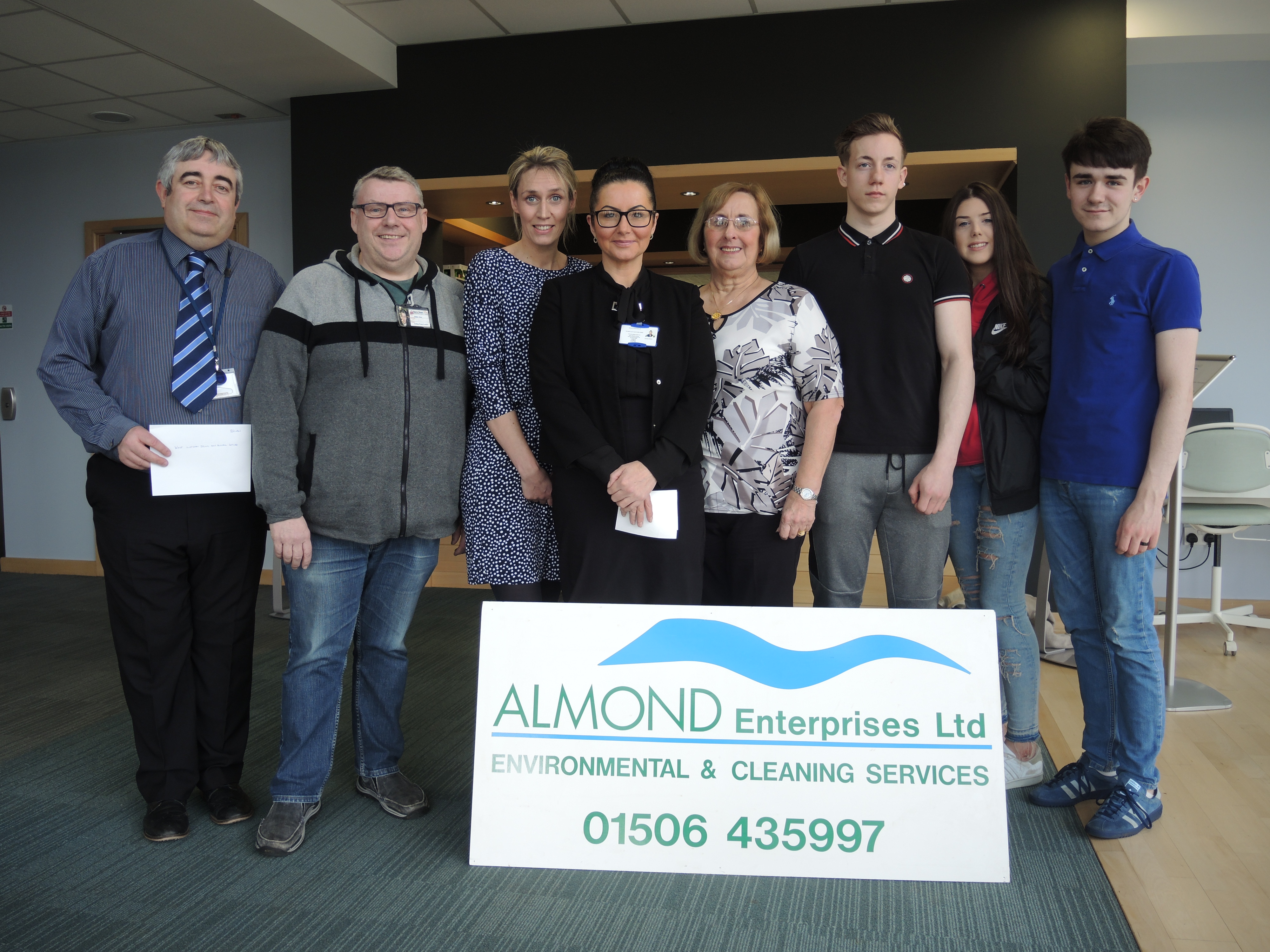 Claire Neill, Director of The Open Door Accommodation Project, said: "Open Door have been working with young homeless people in West Lothian for more than thirty years, and throughout that time Almond Enterprises have been supportive of all we do. We are absolutely delighted that Almond Enterprises Ltd. have made this very kind donation to help our young people, and we look forward to continuing to work together in the future"
Vicky Wilson, Manager of Almond Enterprises Ltd., said "We are delighted to be able to support our local community by making a donation to these three excellent initiatives. We wish them every success and hope that our contribution can make a difference – and be of good use in the time to come "
Pictured, from the left: General Manager at West Lothian Drug & Alcohol Service Brian Pringle, Project Worker at Open Door Malcolm Aien, Director of Open Door Claire Neill, Manager of Almond Enterprises Ltd. Vicky Wilson, Head Coach at West Lothian Rythmic Gymnastic Club Liz McNeill, and all staying at the Open Door hostel: Dillon Sanderson, Taylor Mclain and Dylan Ure.