Your Rent
Your rent must be paid in advance on the 1st of each month.
As a tenant you are responsible for monthly rent and service charges. Payments are due in advance. This means that if you sign up on the 1st of the month, you need to pay the full month's rent and service charges then, not at the end of the month.
If you want to pay at any other time, we must agree first. Please discuss this with your Housing Officer.
How to pay your rent
You can pay your monthly rent in many different ways. Pay your rent the way that suits you best.
Service Charges
Your tenancy agreement states that you are liable for service charges, if applicable. Service charges are the costs for recurring services that are not covered within your rent. If you live in a block of flats, for instance, these can include regular stair cleaning and/or the cost of stair lighting.
The £10 CAP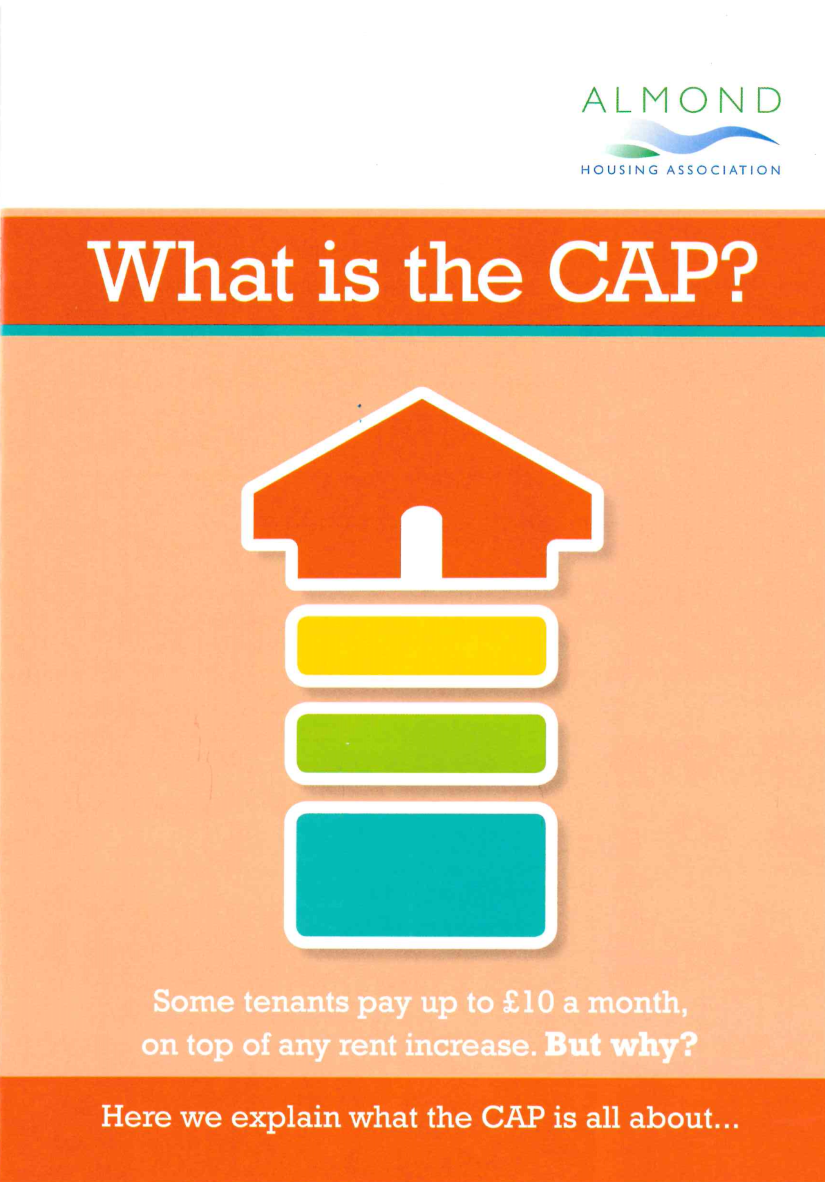 If your rent is too low for the type of property you live in you might be paying a £10 CAP.
The CAP is added to your monthly payment in order to slowly and steadily increase your rent until it reaches the target rent.
The CAP phases in this change over time rather than adding on a higher monthly cost all at once.
Download our free leaflet What is the CAP?
Council Tax
Council Tax is a payment due to West Lothian Council for the services they provide. It does not pay for any services Almond provides – we are not the Council. Our services to you are covered by your rent and service charge payments to us.
Do not mix up your rent with your Council Tax – they are separate payments. Make sure you pay your rent to us and your Council Tax to West Lothian Council.
If the Rent or Service Charges change

Each year we carry out a rent review based on how much we think we need to provide services for the following year. We consult with all tenants before we make any changes and will give you at least 4 weeks notice of any change. Any change affecting your rent will start from 1st April.
If you want information
You can ask us at any time for details of your rent account, and for a statement showing the payments you have made. We will also send you an annual rent statement. Before we can give out any rent information, we will need proof of your identity.
Are you struggling to pay?
If you struggle to pay your rent, let us know so we can help you. Do not wait and let the problem get worse – contact your Housing Officer right away. If you don't pay your rent, you can risk losing your home.
Contact your Housing Officer.
Discover how we deal with arrears.
Housing Benefit
Housing Benefit helps those on low incomes pay their rent. If you think you may be entitled to Housing Benefit, get in touch with your Housing Officer on 01506 439291.
If you receive Housing Benefit and your circumstances change, for instance if you start to earn more money or a family member leaves home, you need to tell us right away. It is important that you do not claim too much benefit as the Government can claim overpayments back.
Universal Credit
Universal Credit is a benefit for people who are out of work or on a low income. It was introduced in 2018 to replace many benefits and tax credits.
Find out more about Universal Credit and how it may affect you.